DATE:

AUTHOR:

Poised team
DATE:
AUTHOR: Poised team
Based on user feedback, we're excited to announce the launch of Poised Score! You'll now see your own personal Poised Score at the end of each meeting you join with Poised. Your score represents your overall performance in a meeting across all skills, including confidence, clarity, and energy.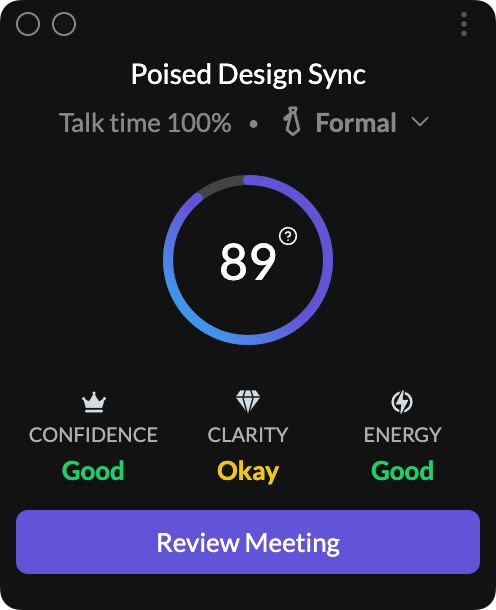 What makes my Poised Score useful?
Your Poised Score gives you a quick understanding of how well you performed in a particular meeting, and allows you to easily track your progress across meetings. You can also use it as a way to compare yourself to others using Poised – which is especially useful if friendly competition helps get you motivated!
How do I make the most of my Poised Score?
Use your Poised Score as a way to understand how your performance is trending. Lots of high scores lately? You're on a winning streak! Performance up and down? Dig into what's changing for you in each meeting by clicking the "Review Meeting" button under your score and exploring individual skills like confidence, energy, and clarity in more detail.
Where else can I find my Poised Score?
Your Poised Score will be available in at the end of each meeting, in your meeting details, and soon via a daily and weekly email. Be on the lookout!

Get Poised today, it's free! Share with us what you think on Twitter at @poisedhq.