DATE:

AUTHOR:

Poised team
DATE:
AUTHOR: Poised team
Video calls have given all of us more to think about than ever when we're speaking in a meeting, including how we appear on screen.

We're excited to announce that Poised can now make sure you always look professionally framed on camera with camera position feedback.
What's the benefit of camera position feedback?
How you look on screen can impact the way users perceive your confidence and credibility. Staying attuned to the way you are framed will ensure you never appear in a way that's distracting or taking away from your presence.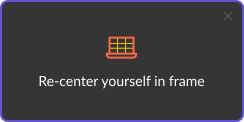 How does camera position feedback work?
Poised will give you live feedback at the start of and during meetings on your camera position, including when your framing has shifted to be less-than-optimal. You'll get also feedback on:
Your distance from the camera – too far makes it hard for others to see your facial expressions, too close can be uncomfortable

Your centering in the frame – you want to be as centered as possible for a polished, professional look

Your camera angle – nobody wants to look up your nose or down at the top of your head